The Camino de Santiago: León to O Cebreiro
Early on a cold, damp morning, I headed off from León. It felt just a little above 0°, it was windy, showering often and coupled with the usual suburban and industrial sprawl that accompanies leaving a city, it was not the most exciting day for walking. My pack was now heavier, due to a restock of tape, freezing gel, and an anti-bed bug spray, and after a few days off it's always harder to get going again. Almost 25km later I came to San Martin del Camino either side of a busy road. A tiny town, with one bar, dinner was a pot noodle and everyone went to bed early, though the albergue was warm and cosy.
The next day the destination was Astorga, roughly the same distance but with more varied terrain. As is more and more common now there are a couple of options for the route and mine after a few kilometers went off the main road. A much nicer option scenery wise but the rough paths were harder on the feet.
Coming in to Órbigo across a beautiful bridge became the start of rough tracks through several villages and forests. In Santibáñez de Valdeiglesias a man called out from a house asking if I wanted coffee or a stamp for my credencial. After stopping and admiring his boar skin rugs (the rest of the boars were mounted in his shed) and walls of postcards and notes I learned that this was his house and he just enjoyed meeting pilgrims. It's really touching how some people are so welcoming and I suppose it must have something to do with the importance the people of Spain attach to the Camino. He then sent me on my way with a piece of toasted bread and his own homemade apple spread.
The forest was peaceful if somewhat stormy, though I didn't see any boars. I was getting seriously tired when I stumbled upon what I first thought a mirage. A rest area with a huge array of food and drinks with a donation box. I was seriously thinking I was imagining it. Refreshed in spirit if not in body, I eventually reached Astorga where I dumped my gear and set off sightseeing.
My late arrival meant I was under pressure to see the town before the light faded. Astorga is quite important in the area historically and there are lots to see. I was sorry not to be able to spend another day here. The Bishop's Palace was designed by Gaudi, the cathedral is one of the most beautiful I've ever seen. There is a chocolate museum and chocolate shops on every street. Through in a few Roman ruins and cool statues and there's plenty to keep you occupied. The masses of chocolatiers were later a problem when almost drunk with the hunger I was trying to find somewhere to eat in that awkward hour before the restaurants open again. In my albergue I heard there was already some snow at Cruz de Ferro, the mountain two days off and the highest point of my journey. A few weeks ago they closed Route Napoleon over the Pyrenees as it was too difficult to rescue pilgrims. Winter has most definitely arrived.
Leaving Astorga in the early morning there was a definite bite in the air. I missed a detour to a little village I wanted to see but as I climbed the wind picked up and gusted strongly despite the sunshine. The path alongside a quiet country road was pleasant with beautiful views.
If I could see them, as soon I had needle-like rain in my face and I became thoroughly drenched as the sun disappeared completely. So I hid in a church door to shelter from the worst of it. Then as of the weather couldn't get worse it started snowing and I soon had lumps of ice on my jacked as I trampled through the mud in totally sodden boots, my wet trousers dripping into my socks and my hands stuffed into my pockets as I didn't have gloves. Since I started I have experienced a difference of 30° in temperature and the forecast indicated temperatures just below zero the next day with a real feel of -8°.
Despite all this the pilgrims, my friend described as resembling jellyfish, were all in good spirits and I finally arrived in Rabanal del Camino, frozen, wet, a little tired and ravenous. Glued to the camina I devoured a huge plate of the best pasta I had in Spain and was very thankful for the decent heat in an albergue for a change.
A quick foray to the shop informed me that such crazy weather was more common now with climate change. Later in the evening, the discussion was all centred on the weather. A Spanish gentleman I met earlier in the day told me that there was a foot and a half of snow at the cross and as the descent was too steep to be safe in these conditions they were taking a taxi the next day.
Some absolute puta madre decided to switch on the lights at 6:10am to the fury of all the inhabitants of the dorm. Probably the same person who decided to switch them off at 18:30 the night before. There were groups talking about taxis and groups setting off to walk in the dark, and everyone was in good spirits. After humming and hawing I decided to wait until it was light and see what the conditions were like as I had check three weather forecasts which were all at odds with each other. Eventually, I decided to try it as there were albergues every 5km more or less and by sticking to the road I would be safer, or at more accessible for pickup purposes if it came to it. As it came to it I was passed by five or six cars, some several times, possibly checking on pilgrims, a snow plough, and the donkeyman – picking up backpacks from albergues.
It didn't take long before I was thinking again about the taxi. The road was a little slushy but ok, the snow flying in my eyes was a lot less pleasant. The route mostly runs by the road so little was lost in any case. I stopped for a late breakfast at Foncebadón and decided it was much too early to stop for the day and so continued on.
Cruz del Fierro, where pilgrims traditionally leave a stone they have carried on their pilgrimage, a metaphor for leaving behind their troubles and supposedly dating back to a call for building the cathedral in Santiago. I had taken the smallest stone I could find in the garden in Waterford and flung it as hard as I could at the mound of rocks. In five layers on top and two on the bottom I wasn't too cold but it was still snowing and the wind was blowing so I hurried on, glad I had picked up gloves and a hat the day before.
Gradually the weather calmed a little and I came up to Manjarín, a very basic albergue with neither heat nor light and relying on pilgrim donations. It was a really amazing place with dogs, cars, flags, memorabilia, flags and a wood fire. Totally based on the original pilgrim spirit. I spent over an hour chatting to Tito, who spends the winters there, helping three others including Tomás, a famous Camino figure.
He told me how dangerous the path can be and they sometimes even have to close the road. It's not uncommon for pilgrims to have to be rescued, ones from Asia predominantly, and many who overestimate their abilities in snow. There used to be many more donation albergues but often people use them without leaving any money, though they can afford it, and the purpose is to serve all, especially those who maybe have run out of money or are poor. Supplies don't fall from the sky. The Camino has become more of a business than the original meditative pilgrimage. People race on every day, not experiencing the journey or the country. And it's a great pity. After a quick stop in the open air, snow-covered pit toilet I had to continue.
And suddenly it all changed. The snow stopped, the fog parted and I saw the most magnificent snow-dusted mountains, a truly spectacular sight. A short walk down the snow-free but rocks aplenty Camino trail led me to El Acebo, a tiny, friendly, dog infested village of stone houses in the Galician style where I decided I had enough walking done for the day.
A wet, foggy morning was the beginning of several days off the same and to top it all I had picked up a cold in one of the albergues. I descended to Molinaseca along the Camino path, rough and stony and sometimes just stone itself. What wasn't rick was thick mud. The only thing of note was a wild-looking creature walking up the mountain who asked me for directions. I don't know why people, even Spaniards, keep asking me, though apparently often I'm mistaken for Spanish or Italian. Goes to show what a bit of a tan does for me.
I was really looking forward to seeing the Romanesque bridge in Molinaseca, but unfortunately, the light was crap, and even the beautiful autumn colours couldn't be captured in the deluge that poured for most of the day, as I couldn't keep the camera dry. Taking off the pack, removing the rain cover, cleaning the lens – all gets old very quickly. What really did brighten my morning was a fellow pilgrim paying for my breakfast. For what reason, I don't know but it was certainly very nice!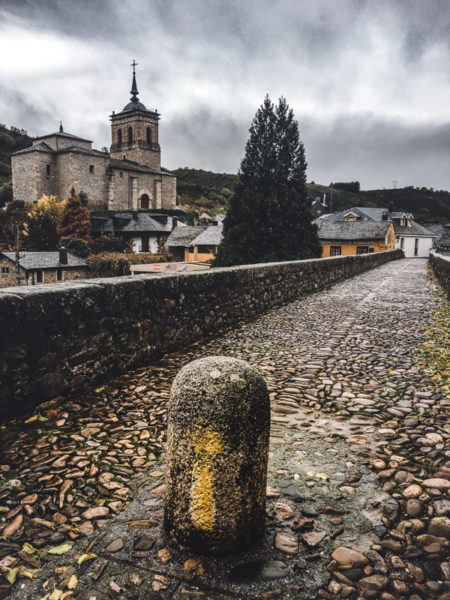 The day brightened for real coming up to Ponferrada, for which I took the long way round, but passing through a pretty village along the way. After stopping off to wash myself and my gear in a really lovely albergue (Alea) I headed off to see the Knights Templar castle, some of which is being restored. Ponferrada is a beautiful city, with maybe too many hills than I'd like after a day's walk, but still, I was considering a day off to rest and nurse my cold.
Which I didn't and decided to head off again in the rain. Which is much worse than snow. I finally finished my adventures with Don Quixote and I found a nice zoned out place to pass the day. From a T-shirt I'm now in 4-5 top layers and two bottoms and everything is drenched. Before Villafranca I managed to take a long-cut, adding another 4-5km to my journey but through some beautiful vineyards with the brightest autumn colours. But the rain prevented me yet again from taking the proper camera out of my bag. Which was a major lastima. Finally descending steeply into Villafranca I arrived very late at which is probably the best albergue of the route, Leo. Warm fires, hot water, welcoming lemonade – I was quite happy not to stir out again for the evening.
I thought quite seriously about staying another day in Villafranca, as I hadn't seen much of it, and I don't know why I didn't. Maybe it was the fact it wasn't raining, or at least lashing, when I got up, or maybe it's the fact I'm now conditioned to walking every day but regardless, I set off, albeit late. I'm getting slower and slower at getting up in the morning.
Although the path was along the road for most of the day, the trees and mountains made it for a pleasant walk. The markets were now in the region of 180km. I feel like I've been walking forever. And in a way, I don't want to stop. Life is very easy. I get up, walk, feed and water myself along the way and then sleep. What was I going to do when it was over? Destination anxiety.
I listened to my book, strolled very slowly and met a lovely dog who was bringing his master along for the Camino. As we left a bar after a late breakfast stop we each did the "did we leave anything behind look", as an Italian pilgrim called it, the gypsy look. Though this might be a little racist. On this occasion, I cracked up as the guy said "I have my head and the dog, I'm all good".
After arriving at Vega de Valcarce I really wanted to do nothing. I had socks to wash, letters to write, food to find and zero motivation. My foot hurt. And the forecast said there would be rain all the next day, with snow on the higher altitudes. I don't mind the snow but I was hoping for some beautiful views, and photography is limited in the persistent drizzle.
In the evening I sat in the common area in front of a cosy wood fire, after a tasty dinner of noodles and Doritos, with an entire bottle of wine on the table that I was offering to everyone who came in so as to avoid drinking the whole bottle on my own. Somehow I got roped into a game of Rummikub with the owner and her friends, chestnuts roasted over the fire, fresh red wine and a little olive spirit. All new things for me and it ended up a really fun evening. I certainly slept well.
I decided, with the rain and my foot, to take the next day off before tackling the mountain to O Cebreiro, 1330m above sea level, my last big ascent and a repeat of climbing to Orisson. Unable to get a taxi I hitchhiked back to Villafranca, with its maze of tiny, narrow streets that cars fly by as if in a rally. Some workmen shouted at me as I passed, "Hey, Santiago is the other way!" I strolled the town before getting a room, organised my gear, did washing and lounged around; swearing solemnly to get an early night in anticipation of a tough, cold walk the next day. Which didn't happen, no way could I sleep before 10pm without 20km under my feet.
But I was so glad I had waited. The women at the hotel showed me A beautiful morning passed just a few light showers, ever-changing light, and even though the last few km to O Cebreiro were completed in a real lash of rain and sodden feet, it was one of the best walks I've had. I must be a bit fitter then when I started.
The taxi dropped me right where I had stopped the other day and the first few kilometres were along a quiet road rising steadily. A quick hot chocolate stop where I met another Irish hiker, and then I had the option of following the road or a path through the woods which quickly became a muddy, rocky river. But one surrounded by the prettiest trees. This short, but steep stage took me almost five hours as I stopped to take about a million photos, played with dogs, met chickens, watched birds and multicoloured beetles, when I, at last, arrived at the border of Galicia.
It's an old joke in my family to meet the true Galician, and now I can say I've completed a lifelong ambition. It was the man in the shop in the tiny village of O Cebreiro, and he gave me an Irish Camino badge as we chatted about the music, almost the same as Irish trad. The stone houses here are unique and a few men were rethatching one. Here too lives one of the driving forces of the revival of The Way, a priest named Elias Valiña. The church has prayer books in over twenty languages. One thing about being 1330m above sea level is that it is freezing. And the forecast predicted snow all the following day.
[Use the arrows on the top gallery at the top of the page to see more images.]