Hiking in Ireland: The Art O Neill Challenge
How about a nice 53km walk in Dublin and Wicklow, starting at midnight, non-stop, in January, through the mountains, snow, bog and fog? Sounds good Dad, I'm in. And that's how I ended up committing to the Art O Neill Challenge, and challenge being the operative word. One of Ireland's most grueling hikes, The Art O Neill Challenge is organised by The Great Outdoors and the Dublin and Wicklow Mountain Rescue Team, as a fundraiser for the latter and is named in memory of a man who died on the only successful escape from Dublin Castle. The DWMRT receives minimal government funding and is a really deserving cause, they were fantastic throughout the entire event. Though the origins of the Art O Neill Challenge is known to the participants, probably everyone in the race at least once wondered why they were heading for Glenmalure. In 1592 Art O'Neill, Red Hugh O'Donnell and Henry O'Neill were imprisoned in Dublin Castle and through help provided by Hugh O'Neill, which probably included bribing the guards, they escaped through a privy shaft into the Poddle River before making for Fiach McHugh O'Byrne's stronghold in Glenmalure, Co. Wicklow. A pretty valley in the summer and a totally different story in winter. Wicklow is one of those places that is beautiful in good weather and Mordor in bad. Sometimes it's both depending on which way you're facing and the weather can change very quickly.
O'Donnell had been a prisoner for five years, to weaken the Irish clans and prevent an alliance between the O'Donnells and the O'Neills; but Art O'Neill was overweight and unfit from his time in jail. After injuring himself after falling through the shaft he was helped practically the whole way by his companions. They couldn't bring heavy cloaks or warm clothes as it would alert the authorities of their escape, they had no maps or compass, it was bitterly cold and they didn't have gore-tex boots. The O'Neills had provided an accomplice to aid them, Henry had left them in Dublin city and at Art's Cross this accomplice went for help while Art and Hugh slept in the snow. Art died of exposure and Hugh lost two toes to frostbite. Had they crossed further up they would have had a straight run through to the valley but to complete the journey they did over 400 years ago was a feat not to be underestimated. Hugh's achievement led him to becoming the leader of the O'Donnell clan though he would later be forced to flee to Spain as part of the Wild Geese, the Flight of the Earls, where he later died. The fact that hundreds of people would voluntarily recreate it year on year centuries later, with so many applying that a lottery had to be put in place would probably surprise them to say the least.
The Art O Neill Challenge entry and types of groups
The Art O Neill Challenge is strictly limited to 200 to minimise the environmental impact on the mountains. And with everyone organising it volunteering their time it would be indeed difficult to be able to safely manage larger volumes. You can choose the Ultra (running the whole thing like a lunatic), Hybrid (half lunatic, running the first 30km and trekking the last two parts) or Trek (the more traditional approach and walking the whole thing) and we chose the latter. I counted about 120 people running past us from Firehouse to Old Bawn (the runners leave an hour later) so I would say there were approximately 80 walkers. Supposedly groups were favoured over individual entries this year. About 800 apply each year and the entrants are chosen through a lottery system.
You can be part of a guided group or self-guided by members of the Dublin Wicklow Mountain Rescue Team for the mountain phases, we opted for guided as though I've done a lot of hiking in Wicklow and I had friends who did this before I hadn't covered all the route and we wouldn't be able to recce it together before the race. Plus by being guided we could concentrate on just completing it and not having to worry about the nav, though maps, gps and compass are mandatory as you can still get lost. Groups are 12-14 with three guides split between the front and back. The DWMRT guides are fantastic, making sure everyone is accounted for, navigating the route and encouraging you along the way (remember they're fresh having not headed out from the Castle). This year's winner, a sponsored, professional runner ultra runner, ran it in about 5.5hrs, only 20mins longer than the record holder. Despite never having stepped foot in Ireland before. About twenty participants were unable to finish in 2017. It is tough.
The Art O Neill Challenge: Kit and Gear
The AON organisers have a detailed list of required gear. I have a more detailed explanation of my kit here as it's largely what I had for Iceland. This was my first time using gaiters which were great in the snow and bog. Unfortunately, both Dad's and my head torches and (full batteries) failed in the cold so we ended up with one between us for the road section and the first hour of the mountain leg. One of the DWMRT lent me hers for a bit which was very kind. Having the phones on airplane mode saved a lot of battery. Dad also had a GPS with the downloaded route. The checkpoints also had food and water and I still had loads left over at the end. We also packed a clean change of clothes for the finish. By changing into dry socks and using plenty of food powder we didn't have a single blister between us at the end of it which was nice.
The Art O Neill Challenge Preparation
When my Dad, Eamonn Terry, asked me if I was interested in the Art O Neill Challenge I'd just finished solo hiking about 800km in Iceland over two months, I was fit and I thought no problem. *However, I hadn't anticipated that my training would pretty much stop when I moved to a part of the world where winds are so strong they blow cars off the road, there was a storm pretty much every week and that's to say nothing of the snow and ice which make solo hiking a suicide mission. So instead I concentrated on lots of squats and lunges in the gym followed by death-by-stepper which is basically climbing as many stairs as possible in five minutes until you think you will die and have to wait until your heart stops exploding before you climb off the machine, in case you face-plant yourself on the floor.
Me: lots of hiking up volcanoes during the summer, attempted walking in Iceland during the autumn*, gym work, two walks with Dad in the Comeraghs over Christmas (10km and 15km). Result: finished it but was wrecked.
My Dad: a year of 1-2 hour walks daily or every second day with a longer one at weekends in the mountains, some at night, culminating in a 45km walk the week before and feeling fine after it. He has done 'a bit of running' in the past as he told one of the guys we were walking with. Like 25 marathons, a million triathlons, half Ironman… etc. Result: plenty in the tank and just a little stiff.
I also had new boots which is exactly what I would advise someone not to do but the thread on my old ones had worn away completely over the summer and my replacements, a pair of Mendel's were a bit too high for an old skydiving injury I have which means I get a lot of tendon problems. Basically I tried and I was breaking in my feet rather than the boots, my old ones were no longer in production and I got ones as close to them as I could as a Christmas present. Good boots but not completely broken in.
Dad and I had agreed that we would take it slow and steady and our goal was to make the cut-off times but pace ourselves. I do a lot of my hiking on my own, taking pictures on the way which means I generally work to a slower pace, but one I can keep going all day. So from that point of view I was worried about holding people up, though Dad said it wasn't an issue. Cos he's nice like that. It is a good idea to recce the route but do be careful, navigation is hard and conditions change quickly. You don't want to get to know the DWMRT before the race.
The Art O Neill Challenge Checkpoint summary
At the Castle, finish and checkpoints 1 and 2 you must 'dib' in and out to record your time and so the organisers can account for everyone. Apparently the 2016 winner ran through the checkpoints only stopping to dib and grab a bottle of water at the second one. Don't spend too long at the checkpoints, you will cool down fast and if you get too comfy you might never get up again.
Checkpoint 0: water, jellies and encouragement. You can get transport back to town from here. Between the Castle and Checkpoint 0 call a taxi if you can't continue.
Checkpoint 1: hot drinks, warm fires and encouragement with transport back for those who can't continue. You have access to your bags here and you check in with the guides to get into a group. Groups are made as people arrive so there's no fast/slow groups but how people arrive might be an indication of pace.
Checkpoint 2: warm fires, porridge and chocolate. Transport back for those who can't continue.
Finish: Glory and honour, your bag and transport to Glenmalure and a bus back to town.
The Art O'Neill Challenge Route
To see the official routes check the Art O Neill Challenge site but this is a rough summary of the 2017 trek. Times are approximate and distances are more or less accurate but check the GPS for more exact details. Unfortunately our GPS died before the end and it wasn't worth unpacking the bag looking for batteries at that stage.
Dublin Castle to Checkpoint 1
30km approx, 00:03 to 05:45 approx
Leaving the Castle just after midnight you head out past St Patrick's Cathedral and the city via  Harold's Cross, Kimmage, Firhouse, crossing the M50 and Old Bawn. From there there is a nice pull up the hill with a gorgeous view of the city lights. There is a mini-checkpoint 0 at Stone Cross where you don't check in but there were very welcome sweets and water waiting for a quick pit stop. From there the road got very icy and we passed Kilbride Army Camp, down through a slippery detour at Athdown with a bit of uphill again to Checkpoint 1 at Ballynultagh Woods. There was a small amount of signposting along this section but don't rely on it. The Gardaí do a fantastic job of escorting the groups from the Castle and manage the traffic with some encouragement along the way to the edge of the city.
This section is full of buzz leaving the Castle but pretty quickly the group thins out with some people belting away at a pace. It's important to pace yourself as you will have six hours or more after Checkpoint 1 and many fit people have dropped out here as they took the first part too fast. It can be pretty monotonous too and for parts I stuck on my headphones to zone out so that I didn't think about the four hours of walking we still had before Checkpoint 1 while Dad was singing (at least at one point!) or counted the runners. At one point I though the bushes were moving.
At Checkpoint 1 we changed top layers (bliss), socks and into hiking boots. Though it luckily didn't rain for pretty much the whole time, when you stop moving you get cold fast and one of the army lads was asking me if I was ok as I was shaking with the cold next to the fire. I'd be cold in a fire and once we got moving we soon warmed up again.
Checkpoint 1 Ballynultagh Woods to Checkpoint 2 Oakwood
10km approx, 06:35 to 10:05 approx
From here, either with your guided group or on your own you set off along a wood road, up a hill which is a little steep, cross some hills, down a valley to another wood road where I saw a deer. For most of this we had a nice bit of snow (though not several feet of it as in previous years that the runners thoughtfully broke for the walkers making for easy navigation) and there was a lot of fog making it difficult to check reference points even as the light was breaking. All the mountain sections from here are without paths so are tougher going than most hiking trails in Wicklow. I have to say I found it tough as we had consistently been going at a slightly faster pace than I normally would but the guides were great and kept up the motivation, as did Dad chatting away to people.
At the checkpoint our lead guide asked if I was ok to finish as I appeared to be struggling. Which I was. I said I could go to a slower group if they preferred but we were the last group. Sitting on a stone at the river Dad refused to go on without me after I suggested I navigate myself because I knew how much he wanted to do it and there was no way I was letting him drop out over me. At that point we had 80% of it done and I was damned if I wasn't going to finish it.
Checkpoint 2 Oakwood to Finish, Glenmalure Valley
12km approx, 10:40 to 16:05 approx
Leaving the camp we headed up through broken ground then a forest road to a river where we waited for another group to get going. An official who was checking everyone had gone through joined us (to make four guides) as we crossed very marshy land, across a river to Art's Plaque before heading up the hill to Art's Cross, where Art died. Our guides told us there would be steep uphill and then some scrambling and about an hour after leaving the checkpoint we'd be at the cross. I'm not sure why but in my head I thought scrambling would be one level under bouldering and more like "the interesting gully" over at Lugnaquilla so I was pretty shocked when we arrived at the cross. This was a point where I actually passed out some hikers who I thought were annoyed at my earlier slow pace and kept asking me if I was ok. So apparently all my lunges and volcano walking paid off! Most runners bypass the cross and indeed bar making the checkpoints there's no set route for these sections.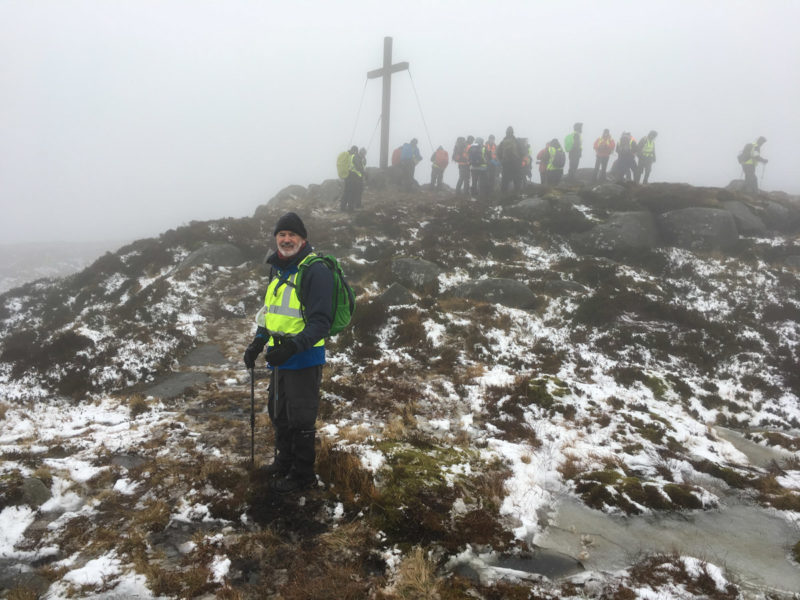 Unfortunately the fog was down and there was no view to admire in the cold wind so we pressed on after taking some photos. After the cross the toughest navigation phase awaits. It's pretty barren up here with very uneven and wet peat. We both went in up past our ankles at some point and got our feet wet under the gaiters. I twisted my right leg about 8km from the end and it being all downhill put a lot of pressure on my sore knee and hell on my lower shin where I seemed to rip the muscle off the bone, judging by the bruising the next day and the pain when I flexed my foot downwards. The last 6km I had tears streaming down my face and I was trying to swear through the pain (unfortunately I swear prolifically which negates the relief of this). The DWMRT team offered me a lift from the top of Glenmalure valley, the mountain bit and the trek being effectively done but being more stubborn than a mule I insisted on finishing it even if I had to crawl. Which was pretty much the maximum pace I was able to go but we eventually crossed the line to more clapping than I'd expected. Last but victorious. Dad told me afterwards that one of the guides said I had a will of steel. And honestly, I didn't think I'd make the first checkpoint, or the second. But by then I knew I could keep going. By the end I knew I could do anything.