South Iceland Road Trip: Gljúfrabúi, Skaftafell and Háifoss
I've been crazy busy between an interesting little side project and the bill-paying job; and between one thing and another including my ever dodgy non-starting car starter our trip to Skaftafell got put off for a few weeks but the forecast was good and I was full of high hopes when Ásta picked me up one Saturday for our South Iceland Road Trip, fitting in Gljúfrabúi, Skaftafell and Háifoss. After stocking up in Bonus and Vínbúðin, because chasing all these waterfalls is hungry and thirsty work, we headed down to Gljúfrabúi in South Iceland. Gljúfrabúi is Seljalandsfoss's hidden neighbour, visible from the approach but becomes lost in a cave when you get close to it. Seljalandsfoss is now a paying site with parking costing 700 ISK as the landowners struggle to cope with the number of visitors each day. One of my better ideas was not to climb up to the top of Gljúfrabúi, to look down into the hole as there really could be a few more chains, the single plank to get up the last bit was really wet and slippy, and I am terrified of heights. After being way too chicken to go to the edge to see the bottom of the falls – though in my defence it's pretty suicidal – I realised that slipping on the plank would leave my face all down the rock and I was about to freak out until I guy lifted me down. Ásta had long gotten bored (and sensible) and went down at this stage. I then scared the life out of him for his troubles by hugging him. You can also rock-hop into the cave where the amount of spray makes it impossible to use any kind of big lens unless you want your pictures to look like they're of a rainy window. But it's an amazing waterfall. Like something from A Journey to the Centre of the Earth.
From there we headed on down to Skaftafell, part of Vatnajökull National Park and a long enough auld drive, got ourselves pitched up for the night and had a few beers. The campsite at Skaftafell is basic enough for what you're paying for. Showers and washing are all extra, there's wifi at the visitors centre, not much in the way of cooking facilities (luckily Ásta had the stove as usual so we could have camping cocoa and hot dogs), and not a whole lot of toilets either. As usual, we stayed up way too late nattering so we decided that a 10km hike the next morning was a great idea as the weather was so fine and we were determined to make the most of it.
We started off by heading towards Svartifoss – the black waterfall, and its soaring columns are supposedly the inspiration for Hallgrímskirkja in Reykjavík; before cutting across to look down over the glacier and Svínafell, the pig mountain. I can't say that I see the resemblance but maybe before global warming, when this area would have looked very different it might have looked like a pig. The weather and view were both stunning and the patterns and ridges in the glacier, as it slowly makes its way down to the lagoon, are mesmerising. There the ice breaks off into growlers, most of them stuck on the bottom, until they melt into the vast glacial wash plain called Öræfi (the wasteland), almost totally barren and to first glance, devoid of any life, until you see a sheep nibbling on a mangy bit of grass. This area was abandoned after an eruption in the 14th century, and hasn't been resettled since, apart form the hundreds of tourists who visit each day. Clearly we still had energy left, because after a few hours break we decided to head over to the lagoon, where by now fog had drifted in, and the mood was completely different. Eerie and still, you are reminded of how quickly the weather can change here, and indeed throughout the day the mountains had been drifting in and out of view through cloud. In the 1950's two British mountaineers were lost in this area, their bodies never recovered, and some of their equipment only surfaced a decade ago. The ridges are such that it would be impossible to climb and if you were not recovered immediately, you'd probably drift out to sea in the ice and river years later.
The plan was to explore more of the south coast the next day but the fog was so heavy that we couldn't even see the tops of the waterfalls we wanted to visit. The plan was then revised to "let's drive until there's no more fog". 250km later, mission accomplished. We were almost back in Selfoss. Which kinda defeated the purpose of getting away. Ásta's sister was in the north and kept telling us to come to Akureyri where it was 20ºC, but that's kinda a long drive. And by kinda I mean it really is.
So we headed up Route 26, first to admire the Queen – Hekla, protecting her modesty in a veil of cloud, that she only took off when we were about to go home hours later. Hekla has been threatening to erupt for quite a while and is, in fact, overdue – and if she does, it could completely eclipse the Eyjafjallajökull. Oh goody. I'm also trying to scout good – and safe photo locations for when she does. And definitely nowhere where I can smell the sulphur – a sure sign you're in the middle of toxic fumes that are killing you.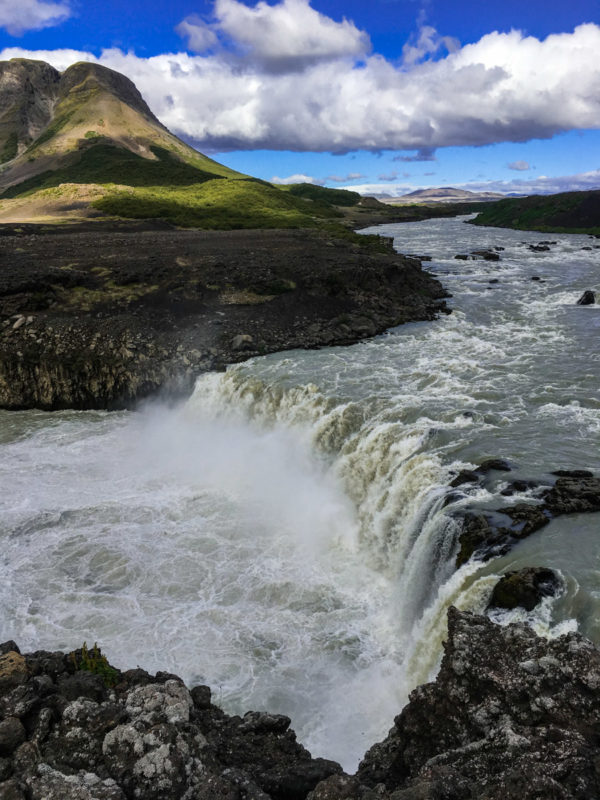 After stopping at Þjófafoss we continued up the bit that I turned back at last winter as I didn't know how bad the road was going to be – a washboard basically, and headed along a worse road (I was getting cursed by Ásta at this point, but not as much as the tourists in front of us who were driving all over the place) to Háifoss. But oh was it worth it. A valley like Middle Earth, with two cascading falls and the fading light – it's one of the most beautiful places I've ever seen. Gjáin is not far away, on a worse again road, but at this point we were tired, the car was making a new noise, and after discussing all our camping options at length – I finally had a good idea – head back to Borg, stay in a summer house, eat pizza and drink beer in the hot pot. I think I was even forgiven for all my other 'good ideas'.