The Camino de Santiago: Logroño to Burgos
The next stretch out of Logroño on the way to Burgos, according to the guidebook, was 31km uphill and I decided to split it into two, stopping first at Navarrete, a cute little town and then at Nájera, a historic old town set against a warm red cliff. I was surprised that the inclines weren't as steep as I had imagined and though rain was forecast both days only after setting off from Navarrete rather late at 8am was there real fog but no rain. Yet. The route runs along the road quite often which isn't so scenic and among lots of fields of grapes, punctuated by the occasional vineyard, where you can smell the sometimes sour odour of the waste wine. Of course La Rioja is famous for its wine and my evening wine-to-drink-while-reading is generally excellent, and I've found the cheapest yet at €1 a glass. The crowds are much less on the trail and some albergues are shutting down for the winter or opening later. They vary from basic municipal ones with minimal and sometimes tired facilities to private ones of varying qualities and slightly higher prices, sometimes offering breakfast or evening meals, to more expensive and luxurious options I haven't tried yet.
My days are generally the same, wake at 6am, try to get on the road at 7am or at least before 8am, walk, check in, shower and wash clothes, explore the town and read, bed by 8-9pm. The routine is comforting but can be at times monotonous and inevitably the towns can blend together. My tendons are the same but currently I'm trying to hold them together with tape. I can't tell if it's working, a placebo or makes no difference as of yet but it doesn't hurt to try. The pack is at its lightest now without throwing out things I will need like a cold gel, tendon band and so on. A litre of water adds to the weight but fountains seem less frequent these last few stages.
I missed writing for a couple of days and realised I couldn't remember even the morning of the same day as the landscapes melded together. Not that they were any less picturesque, rather than the endless stretches of ploughed fields and vines blended into one, even the pretty villages and warm stone churches started to seem the same. But that problem lies more in the beholder. Onwards to Santo Domingo De La Calzada, Santo Domingo de la Calzada, an important medieval town lying on a wide flat plain; and then into Castile y León and Belorado, a small town with a maze of narrow streets spreading out from a central plaza; all I could think of now was the fairly unbearable pain in all my tendons and sitting outside a laundrette I wondered if I would have to stop altogether. The rain and cold made it difficult to take photos and I was just generally not enjoying it much. Eventually, my swollen foot made the decision for me and I resigned to a few days rest in Burgos and then see if there was any improvement.
Burgos is a beautiful city, an elaborate gate leads to the large square and where the cathedral rises up majestically against the hill and the castle behind. The castle, held by Napoleon's troops during the Peninsular Wars offers a sweeping view of the city below, or at least it would if it wasn't raining. The city is littered with statues, depicting something appropriate to their setting and makes for a lot of fun when walking around. Autumn has come with, if not a bang, then a sharp crack. It's cold, a little snow on the distant mountains and I even had to get a warm jacket. Still as a visit to the physio prescribed rest, elevation, massage and so on, it's not so bad.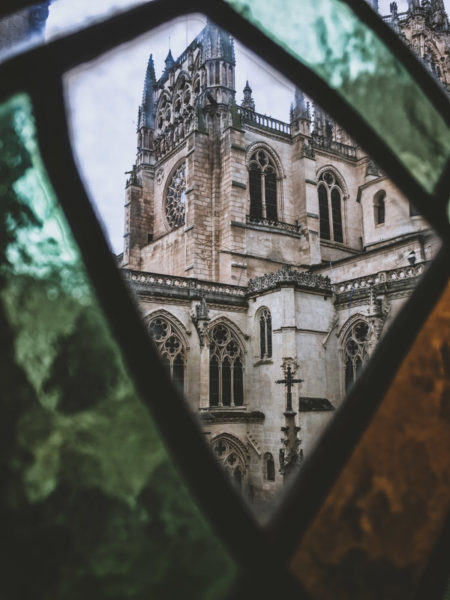 And as I should be resting I decided to do it in style, my own room, my own bathroom, and best of all no snoring! A luxury I don't think I've enjoyed since I started this trip. Pilgrim albergues can range from three bunk beds to a giant ward of seventy, or so I've experienced so far. I don't always scramble for the municipal, usually the cheapest, option. Pet peeves so far are, noisy entrances and exits, hogging the one and only plug in the room, very loud talking after 9pm, deciding when the lights should be on or off according to your timetable – not anyone else's and the snoring obviously (I've recorded it on occasion, 6/16 offenders clearly audible despite earplugs). Still this and the total lack of privacy is part of the experience, and therefore even nicer to escape from it for a few days. Wandering gently around the city to try and see if my foot was improving, I visited the castle, cathedral, museums and such; interspersed with endless pastries in cosy cafes and punctuated by obligatory "feet up against the wall while reading" sessions. Could be a lot worse.
[Use the arrows on the top gallery at the top of the page to see more images.]