Iceland: Snæfellsjökull and Kirkjufell in Snæfellsnes
After the north I spent a week on the Snæfellsjökull peninsula in Vesturland. This is a gorgeous and relatively quiet part of the country with lots of nice hikes and beautiful scenery.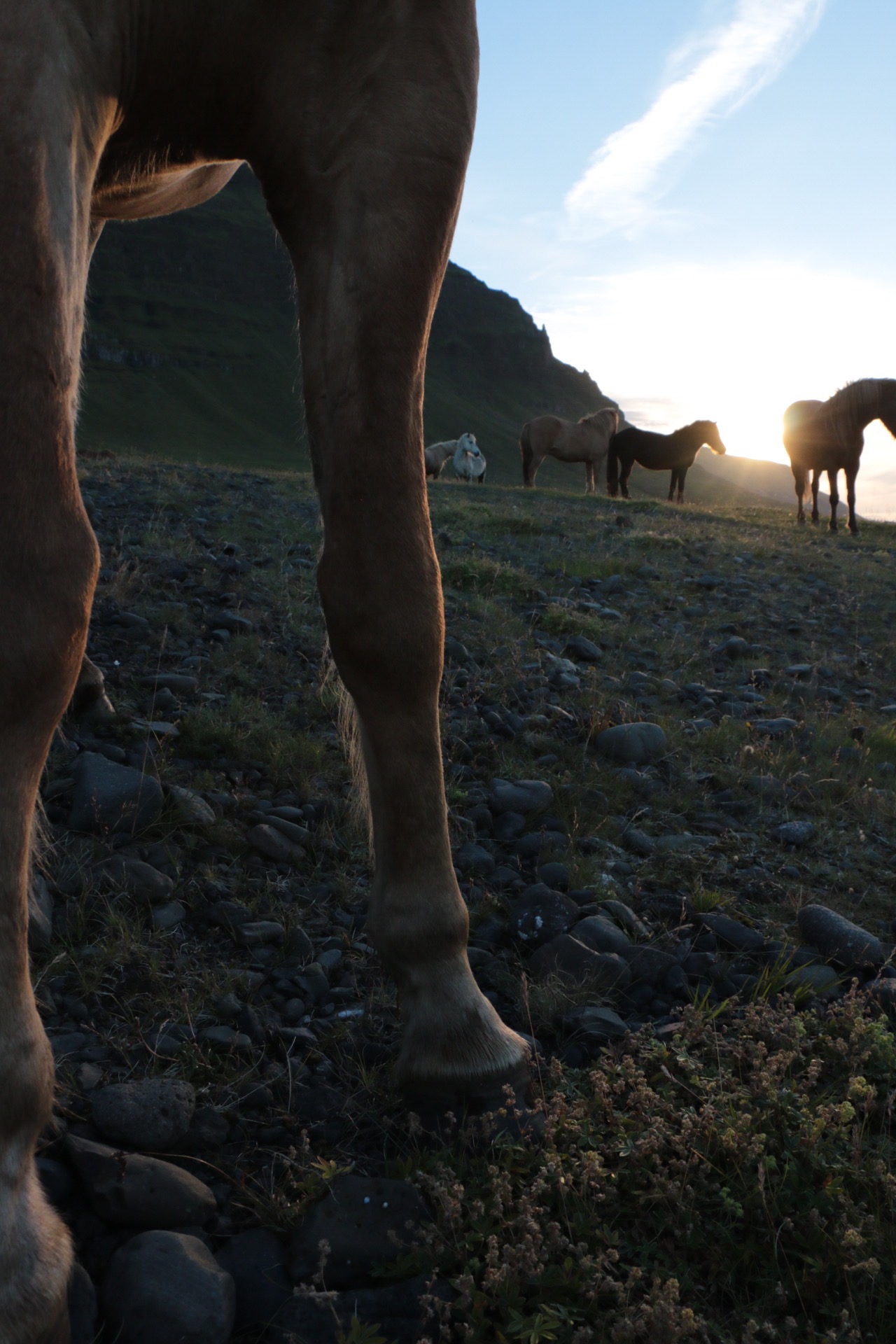 Camping in Grundarfjörður
For the first few days I camped at Grundarfjörður, it's a nice but basic campsite. Showers at the local pool and one socket, so wasn't using the phone much. I spent at least a day and a half at Kirkjufell and the most beautiful waterfalls next to it. Most tourists hop out and take a few pictures, along with the buses it can get quite busy. But it's such a nice place, with mountains behind you and a field of inquisitive horses – take your time and appreciate it. And you will be rewarded with a few moments where it looks like you're the only one there. So basically I photographed it from every angle in every light but I'm still waiting for the perfect shot. I suppose I'll just have to go back.
I did some walking in the area and hitched to the local shark museum – really a curing house with an explanation of the process and an opportunity to try fermented shark. My lift there was a local fisherman who was going to Hitler's Cousin (the dentist). Clearly he was looking forward to it, and on the way back Daniel and American couple got me home before a quick dip in the sea. Which was full of fish gick from the harbour and not so nice.
Journey to the Centre of the Earth and volcanoes
I moved on to Ólafsvík a little further on and hiked to Snæfellsjökull, the setting of the beginning of "Journey to the Centre of the Earth" by Jules Verne. My brother was obsessed with this cartoon movie when we were kids, and my friend was recently in Naples, not far from Vesuvius, the end of the literary journey, making a nice link. The undulation of these infinite numbers of mountains, whose snowy summits make them look as if covered by foam, recalled to my remembrance the surface of a storm-beaten ocean. If I looked towards the west, the ocean lay before me in all its majestic grandeur, a continuation as it were, of these fleecy hilltops. Where the earth ended and the sea began it was impossible for the eye to distinguish."
You can do this walk as part of a loop around the peninsula but traffic is light here and by the time I would have gotten to Arnarstapi it would have been late and my tent was in Ólafsvík. It's all dirt road to the volcano though I didn't go to the top as I don't have snow gear. But in theory you could follow the snowmobile tracks up, without you need to be careful of cracks masked by the snow. And under cloud it can be dangerous. The snowmobile is actually a big viewing stand which goes to the top. But takes the fun out of it I think. There are guided hikes too. The dirt/gravel road is from good to rough but it doesn't stop any tourist going regardless of the type of car they're driving. Until they have to explain it to the insurance company I suppose. Along the way I met a Danish couple who were celebrating their wedding anniversary the next day and were going to get up early to see the sunrise. As they said it's not about who gets there first but who learns the most along the way. If that's the case I am the winner on this trip. With my meandering off-road it was about 30km in 18°C (I must be turning local as that is too hot for hiking!) there and back with steep hills up and trying to take it easy on my knees on the way back. With the gravel being very slippery downhill I was wrecked.
Heading west along the Snæfellsness Peninsula
The campsite at Ólafsvík is run by the local policewoman ("in the country we do everything"), with a small kitchen, plugs and showers (the hot water runs out fast) and they take the camping card! Very few places I've ended up in do. So unless you are driving and can plan to only stay in those I wouldn't bother with it. The next evening I met the Danish couple, the aurora came out, they saw the most spectacular sunrise – all in all a pretty special anniversary. I haven't seen the aurora here yet, either I'm asleep or if I manage to stay up there's cloud.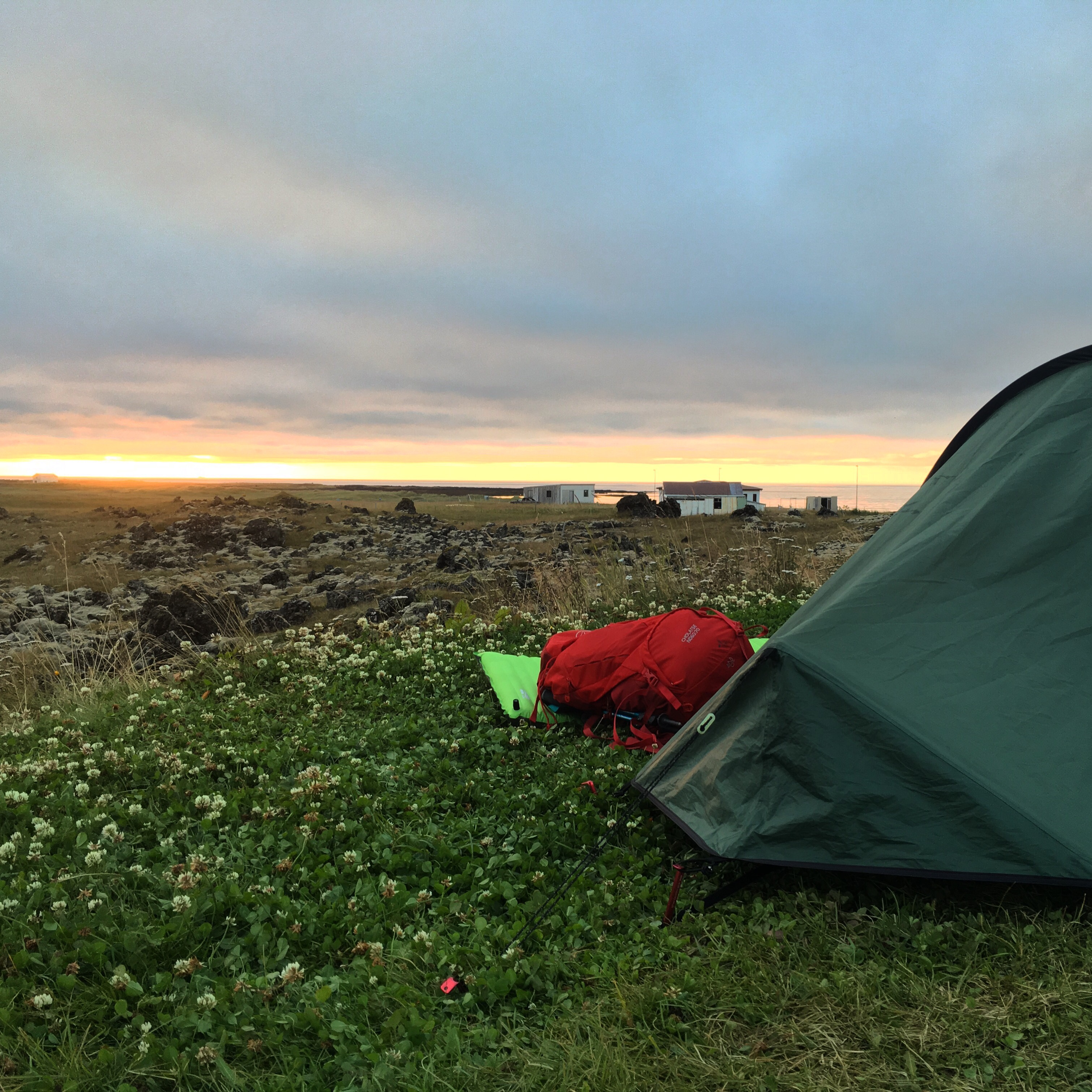 Further west is Hellissandur, where I had gone a few data previously, with full intentions of doing a coastal walk until I got to the beach and decided as it was so hot I was going to swim, sunbathe and read my book instead. The campsite is in a lava field, next to an interesting fishing museum and, well I wanted to camp in a lava field, without wrecking nature or national parks.
I took the bus to Arnarstapi, a pretty little village on the other side of the peninsula to walk to Hellnar and at this stage I know the bus driver quite well. A nice but shy man, he probably thinks I'm stalking him. Hellnar was the main fishing port on the peninsula, the other harbours bring quite exposed, but the fishing is now largely gone. There's a few boats and a pungent processing plant in Olafsvik but it's a far cry from its heyday. The whole peninsula is dominated by Snæfellsjökull, either you can see it, if the cloud isn't hugging the crest, or the landscape is a reminder of its eruptions.
Borgarnes and the Settlement Museum
Heading back east, I spent the night in Borgarnes. There's an excellent Settlement Museum here which tells the story of settlement and Egil's Saga through an audio guide. I was hoping to spoil myself with a night indoors and do my washing but between bookings getting cancelled as they weren't actually available (and I stayed in the very basic – no showers – campsite) and then they didn't have laundry facilities I gave up and headed to Reykjavik as I now look and smell like a homeless person. Hopefully the next few days will be a long hiking trip, without much contact. But I'm probably not dead.