All the usual places and the Northern Fjords
It's a hard one when you're showing friends and family around somewhere you live. I've been to Gullfoss and Geysir loads of times. Not to say they're not beautiful but… well… I'd like to see different places. And so with Cearbhall stopping over on the way back from visiting friends in the States a compromise of a mixture of new and old was decided on. After a long, long, long but beautiful drive down from Ísafjörður, a visit to the pool in Laugardalslaug was needed before I headed to Keflavík for a flight that was arriving at 4:30 am. There was no point setting up camp so I decided to nap in the car and with my new travel companion, we headed along the Reykjanes peninsula at dawn to see the Bridge Between Two Continents, Seltún and lava fields.
Both of us were wrecked and an unscheduled trip to the hospital (Ka was running low on insulin and nothing can be got in Iceland without a prescription) put a bit of a spanner in the works. In the end, after a stop at Hruni geothermal pool, we just headed to Borg Í Grimsnes, slept and hot-potted; and headed off the next day along the south coast. Seljalandsfoss, Gljúfrabúi, Skogafoss and Vík are all places I've seen before but the light at Seljalandsfoss was just perfect as we headed back that evening, and we also stopped at Dyrhólaey, Solheimajokull (by request, Cearbhall was determined to see a glacier), and Seljavallalaug – accessible by a terrible gravel road (due to the huge numbers of visitors it now received and that was due to be resurfaced the following week). It's not that warm a pool but the walk up is quite pretty and despite what you may think, not that hard to find.
Trying to fit in half the Golden Circle before heading to the north coast was going to make it a long day, but totally worth it for Cearbhall, and we stopped at Gullfoss, Geysir and Þingvellir before Ka got a history fix at The Settlement Center in Borganes. It's strange to think geysers are becoming normal for me. But we also explored parts of Þingvellir I hadn't seen and we both nerded over Game of Thrones film locations. I had thought of doing one of the Game of Thrones tours, but now I think as I've seen all the places I'd only do it if there was a lot of trivia included too.  Being Ka's first time to drive on the right (as I found out after the first drive) I did most of the trip, with wind speeds of up to 20m/s on narrow roads with a steep edge it was just easier. I now feel like my Dad and request a driver's seat coffin should I die. It'll be easier to fit into. I'm also turning into my friend and shout "bloody tourists" at cars a lot. In case you think this is hypocritical as I was also a tourist here, now's the time to say I never drove in Iceland before I moved here. So there. At this stage, I think I'm becoming one with the car.
We eventually got to Siglufjörður, having missed getting into the pool at Hofsós as they closed early. Sometimes I really think I miss-timed this trip and others I think I timed it perfectly. The campsite in Siglufjörður is bang in the middle of town. Which is kinda weird when you're brushing your teeth and everyone is driving up and down, doing their thing. I've wanted to visit this place since I saw it on Trapped (Ófærð) . Though apparently, Icelanders weren't quite so in awe of it – check out Ari Eldjárn talking about it around the 32.5-minute mark. After fighting with the wind a bit when putting up the tent, we got the heater on (what luxury) and were about to turn in when I spotted the aurora, and dragged the child out to the edge of town to take photos. Sensibly the child stayed in the car for a good part of the hour and a half I spent freezing, wrapped up in a hoodie, shawl and jumper, while watching the most amazing, lively dancing aurora I've ever seen.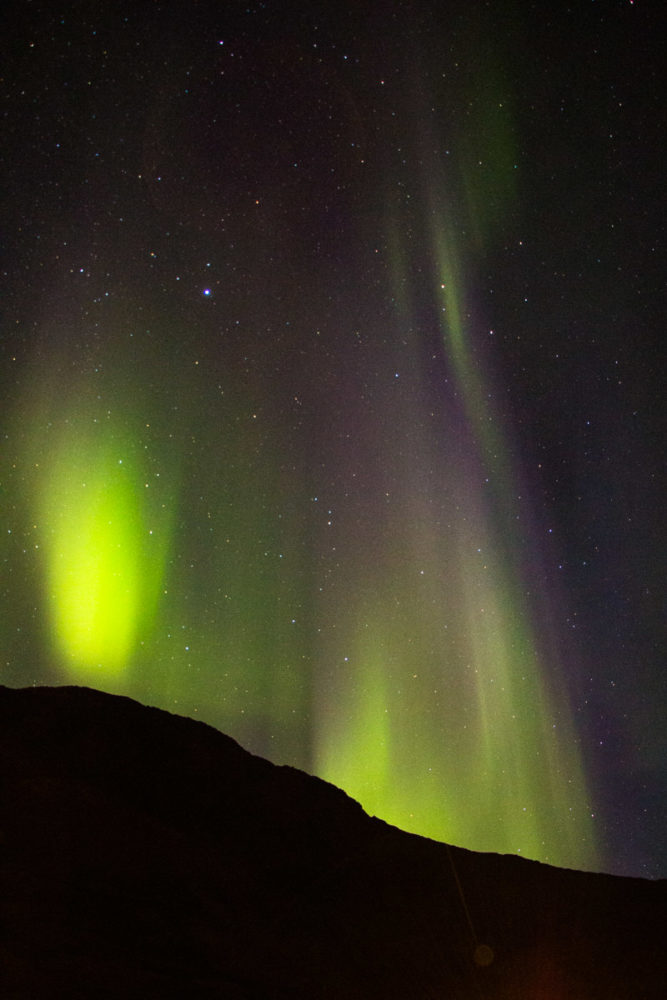 We walked around the town of Siglufjörður the next morning, after a nice chat with the campsite owner. I'm finding it very different this time around when travelling in Iceland. Some people, like him or the guy who works at Grettislaug, are surprised to hear me speak/murder Icelandic – and are really nice and encouraging. Some, keep talking to me in English. And even have complained about how everyone is speaking English – when I'm trying to speak Icelandic! How does that even make sense?! Regardless, Siglufjörður or Siglo, as it's known to locals is a really pretty, charming town. We didn't go to the Herring Museum, but I've heard it's excellent and it does look very interesting from the outside. Instead, we headed through the tunnels to Dalvík, a town I'm quite fond of and where I just wanted to sit on the quay wall for a while, before we headed west again to chill out in Grettislaug – another amazing geothermal pool and take a look at some restored turf houses and where Snorri Þorfinnsson, the first European to be born in North America is buried. Cearbhall though the scenery gorgeous and I agree – north Iceland is just beautiful.
After a windy and fruitless (aurora-wise) night, we headed off on the long, long drive south to Reykjavík for a Saturday night out on the town. Starting off at Apotek, where I treated Cearbhall to a cocktail (one, I'm not made of money) – which Ka thought astronomical and possibly why it took so long to drink it. Then a bit of a pub crawl, until at Kaffibarrin – nicely merry, we decided to walk back to the campsite.  The next day I dragged my hungover arse to Vesturbæjarlaug, much nicer and quieter than Laugardalslaug and where you may run into Björk (but if you do, don't let on) while Ka went to the National Museum, before, sadly, heading back to Ireland.