Christmas and New Year's Eve in Iceland
Despite appearances, I do like Christmas. Just not when the hype starts in September. But now that's it's December I can get into the Christmas spirit and there's a few differences with Christmas in Iceland that I'm enjoying learning about. Here Christmas is called Jól, which we know as Yule, an ancient pre-Christian feast. Icelanders go for decoration in a big way and Christmas lights have been up on every possible structure for weeks. All thirteen days of Christmas from 24 December to 6 January are celebrated.
Christmas Food in Iceland: Jólahlaðborð, laufabrauð and Jólabjór
Jólahlaðborð is like a big Christmas buffet with lots of traditional foods that I'm getting very fond of. Along with goose, lamb, horse and crispy ham, there's a special bread called laufabrauð, which is a flat poppadom-like bread with patterns cut into it. Though you can buy it in the shops I was lucky enough to be invited to my friend's aunt's house where the whole family gathers each year to make their own. It was so nice to sit there with everyone chatting, catching up and getting into the festive spirit. You wash all this food down with Jólabjór, or Christmas beer, which are special limited edition beers, usually a bit darker than normal, or non-alcoholic malt og appelsín, malt and orange juice. Which I love, but the lack of alcohol made it a lot less popular than the Jólabjór I brought home last year.
Christmas Markets in Iceland
There's not a huge amount of Christmas markets in comparison to other countries but you should check out:
Yule Town at Ingólfstorg
Christmas Village in Hafnarfjordur
Heidmork Christmas Market
Handverk og hönnun in the Ráðhús (City Hall) Reykjavík
Þorláksmessa
On 23 December, St. Thorlakur's Day, Iceland's national saint, is celebrated with a meal of skata, or skate. It's pickled like hákarl, for the same reasons and stinks. So obviously, not being a fish fan I haven't tried it. This is also the biggest shopping day, Icelanders always love to leave things until the last minute, and many shops are open until midnight, with everyone going downtown to see who's out.
Aðfangadagur
Christmas Eve is the main day of festivities and everything closes early so people can start celebrating at 6pm, from an old Icelandic tradition, when a new day started at 6pm not midnight. Presents are opened after dinner and books are amongst the most common presents, and the publishing rush in the autumn is called Jólabókaflóðið, the Christmas book flood.
Jóladagur
Though Christmas Day is not as big of a celebration as Aðfangadagur, the whole family get together to enjoy a meal of hangikjöt, or roast lamb or rjúpa, ptarmigan, as pooer families did years ago. Laufabrauð, often with each person's own initials is a big hit too. The rest of the day is spent visiting family.
The Yule Lads: Jólasveinarnir
There is no singular Santa in Iceland. The Yule Lads, the sons of blood-thirsty cannibal giants/trolls Grýla and Leppalúði from Dimmuborgir, and are Iceland's thirteen Santas'. Each one has a different day from the 12 December and leaves either presents or rotten potatoes in your shoe, depending on if you were naughty or nice. They also play a lot of tricks, which you might guess by their names. They include: Stekkjastaur (Sheepfold Stick), Giljagaur (Gilly Oaf), Stúfur (Shorty), Þvörusleikir (Spoon-licker), Pottasleikir (Pot-licker), Askasleikir (Bowl-licker), Hurðaskellir (Door-slammer), Skyrgámur (Skyr-glutton), Bjúgnakrækir (Sausage-pilfer), Gluggagægir (Peeper), Gáttaþefur (Sniffer), Ketkrókur (Meat-hook) and Kertasníkir (Candle-beggar). You must also get new clothes ar Christmas because if you don't you can be eaten by Grýla's Christmas Cat.
New Years Eve in Iceland: Gamlárskvöld
New Year's Eve in Iceland is huge. This is a night of mayhem, madness, huge bonfires and fantastic fireworks. Last year a gang of us went to a friend's house for a delicious huge meal, drinking, chatting before we walked up to Hallgrímskirkja for a spectacular display of fireworks. All sorts of magical goings-on like talking cows, human seals (the story of the selkie brought by Celtic slaves maybe?), zombies and elves. One thing. Be very careful of the fireworks on New Years Eve in Iceland. Wherever there is 2 square feet of free space someone will be setting off fireworks. I was almost blown up several times last year.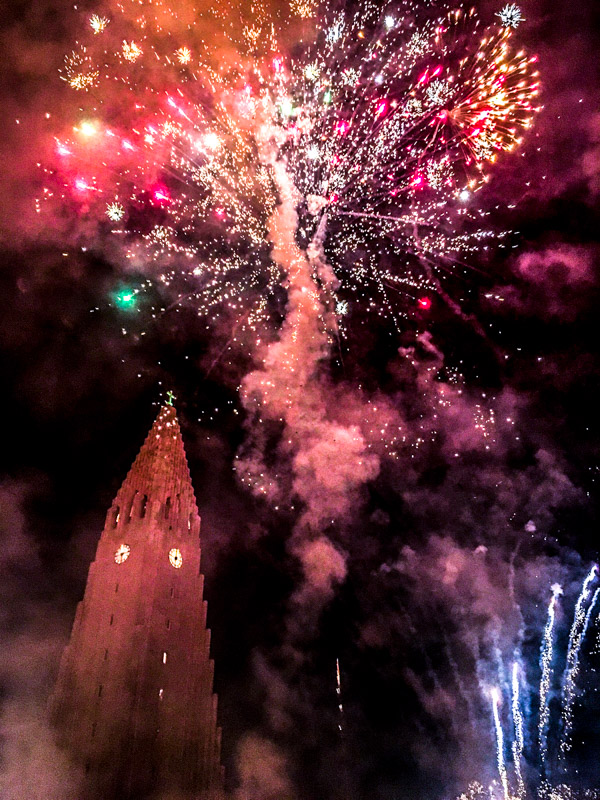 Gleðileg jól öll!